Be Prepared
by William Jackson on 2005-04-13
What did I learn in Boy Scouts? "Be Prepared." I guess I didn't listen.
Yesterday at about 12:30 I was invited to join a small group of friends to see the Broadway Musical Thoroughly Modern Millie at Bass Concert Hall. I admit, I didn't know it was a Broadway Musical when I accepted the invitation.
Anyway, I met two friends at the box office later that day to buy my ticket. They each bought a ticket for someone who wasn't there, but I hadn't said anything to anyone, so I just bought one ticket for myself. My friends told me that I should buy two tickets and get someone else to go, but I didn't.
That evening at the Institute I saw Chloë for the first time in several weeks. I asked her if she wanted to see the show with me, and she agreed. At this point, I was wishing I had bought that other ticket as my friends had suggested, but I wasn't worried that the show would be sold out.
Okay, I was worried that I wouldn't be able to get another ticket right next to the seat I already paid for. But everything turned out alright in the end.
As for the show, it was amazing! You must see it. Lucky for you (family, nudge nudge), the show is coming to Salt Lake City later this month. Sarah, I know you will love it.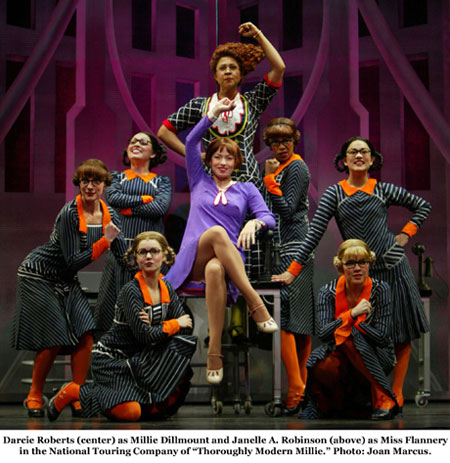 Without spoiling anything, Thoroughly Modern Millie is the story of a young Kansas girl that moves to New York City in the 1920s to begin her life as "the modern woman". If you like tap dancing stenographers in bright orange stockings, or if you don't, you must see this show.