Razorlight Ruined My Evening
by William Jackson on 2005-05-08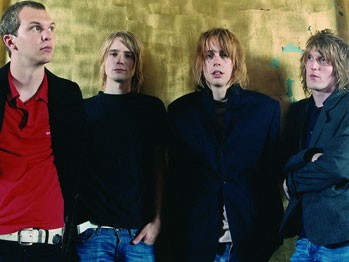 Razorlight are, from left to right, Björn Ågren (guitar, backing vocals), Carl Dalemo (bass, backing vocals), Johnny Borrell (vocals, guitar), and Andy Burrows (drums).
I only hold Johnny responsible. Please allow me to explain.
I have been planning to go to see Muse in concert since, well, my entry entitled "So, I Guess I'm Going to Muse". I even downloaded some Muse to listen to just to make sure I would like their music. I liked it quite a bit. Don't worry, friends, I didn't do anything illegal. I deleted the music within 24 hours.
The concert was on Saturday night. From the outset, there was non-threatening, friendly flirting as promised, including but not limited to the spoken, "You look good in grey," and the text message, "not diggin the opener but im sure diggin you babe."
The opener in question was Razorlight,
A band whose tunes make grown men go weak at the knees, and yes, whose looks make young girls' knees tremble too. [source]
I didn't say that.
At first I was getting into the music, but it got old after a while, and I was absolutely disgusted, as were many concert-goers around me, when Johnny took his shirt off. Thank you, and goodnight.
After what must have been a 90-second power-guitar-bass-drum riff o' death, Razorlight left the stage and the loyal roadies began clearing their gear and setting up for Muse.
The stage was set for a good fifteen minutes before Muse came on. Perhaps they wanted to keep us in suspense. Perhaps they wanted to start their show at exactly 21:30. Perhaps they wanted to see how long the crowd would stand around if they played The Album of the Most Annoying Music, Ever over the sound system.
By the time Muse took the stage, I had already been standing for two hours inhaling secondhand smoke, and I didn't feel good. I was done with music for the time being, too. After a few songs by Muse, all of which sounded about the same to me, I made my way to the warehouse wall.
Listening to Muse on CD and listening to Muse in concert are two completely different experiences. I prefer the former.
After sitting for a while, wandering around the back of the warehouse, thanking Heaven I wasn't prone to epileptic fits brought on by bright, rapidly flashing lights, I finally decided that I really wasn't enjoying myself. I walked out.
Because I feel bad about walking out of a concert I paid to see, I must place the blame squarely on the bare chest of Johnny Borrell, who got me so sick and tired of live music in the mere fifty minutes he tried to entertain me that I was compelled to walk out on Muse.
However, I had a great time hanging out with my brother most of the day, and seeing all my friends from Waco again. That makes up for any damage inflicted by Razorlight, "the best new band out of Britain to hit America." [source]
Apparently.